Oraciones
Oración
Santísima Trinidad que te dignaste hacer de tu sierva Paula una discípula de Jesús en la copia de su pobreza y humildad al estilo de San Francisco y en su entrega amorosa y desinteresada a los más necesitados y marginados de su tiempo.
Te pedimos, para gloria Tuya, honor de Iglesia y bien de nuestras alma, la gracia que deseamos obtener por su intercesión, a fin de conseguir su pronta beatificación.
Así sea.
Padrenuestro, Avemaría y Gloria.
Prayer
Prayer to the Holy Trinity to obtain graces through her intercession.
Oh most Holy Trinity, You that deign to make your servant Paula a disciple of Jesus, by following the example of poverty and humility of Saint Francis, as well as on her loving and generous commitment to the poor and the out-cast of her time.
We beg, for your glory, the honour of the Church and the well beings of our souls, the graces we wish to obtain through her intercession and in order to obtain her prompt beatification.
Amen
Our father, Hail Mary and Glory be.
Oração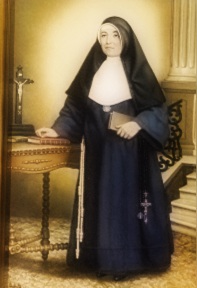 Santissima trinidade, que te dignaste facer de tua serva Paula una discipula de Jesús na imitação da sua pobreza e humildade no estilo de São Francisco,e na sua entrega amorosa e desinteressad
a aos mais necessitados e imarginalizados de seu tempo.
Te pedimos para tua gloria e honor da tua igreja a ben de nossas almas a graça que desejamos obtener por sua intercessão a fin de conseguirnoso sua pronta beatifição.
Assim seja